High Five: It's Friday! What an excited week it has been! Lots of things happening at the high school...... -Last week Valerie Smith finished 7th in a statewide 10 week virtual budget game. She earned a small cash prize for her performance. Great job Valerie! -This week we finished up AP exams and next week will begin Keystone testing. - Tomorrow is a big day! The FFA is having a flower sale at McLaughlin's Pharmacy from 8am- 2pm. There are LOTS of flowers that need to go! -Also, tomorrow is PROM!! It will be held at Laurel Rock Farms, dance starts at 7pm. Please note there has been a change...... the prom-walk will be held rain or shine. Line up for the prom-walk will start at 6:15pm and will begin shortly after. If it is raining the students will be under the porch area to be announced. Parents please bring an umbrella so you can stay dry while you enjoy the prom-walk. Any family members wishing to attend the prom-walk please remember to park in the secondary parking lot at the barn, family should NOT park at the Laurelton venue parking lot- this is student parking only.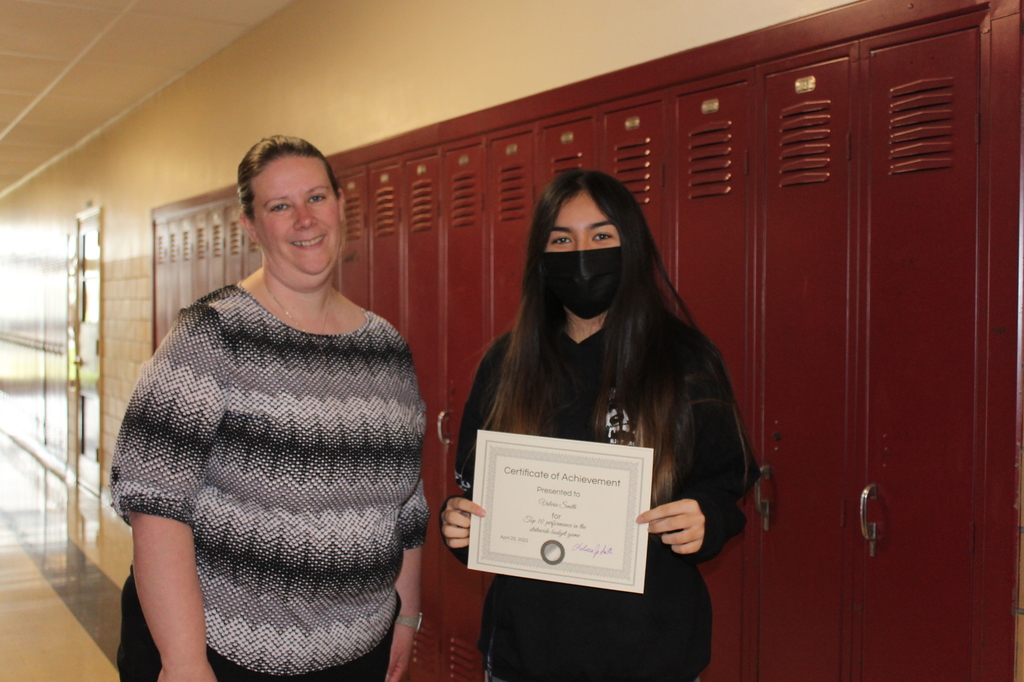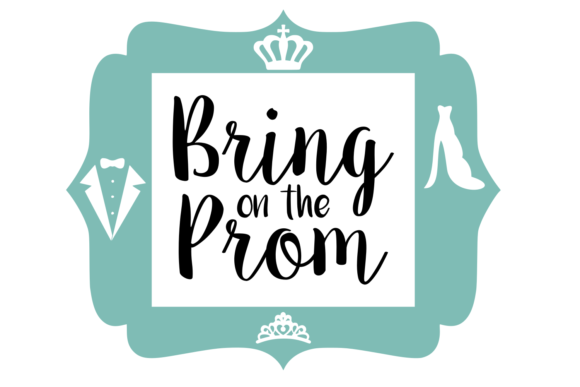 High five: it's Friday! While we try to show appreciation for our great teachers here at EJHS on a regular basis, this week was special! During this year's Teacher Appreciation Week we played a version of the game show Survivor. Teachers "spun the wheel" to determine if they would be given a grab bag prize or face a challenge for points. Some of the challenges involved taking and posting pictures with their best school friend, having some fun during a break time with colleagues (and marshmallows), or inviting an elected official to visit our school. We were all thrilled when PA Representative John Hershey accepted Mrs. Baney's invitation and visited! Thank you Representative Hershey! And . . . thank you teachers!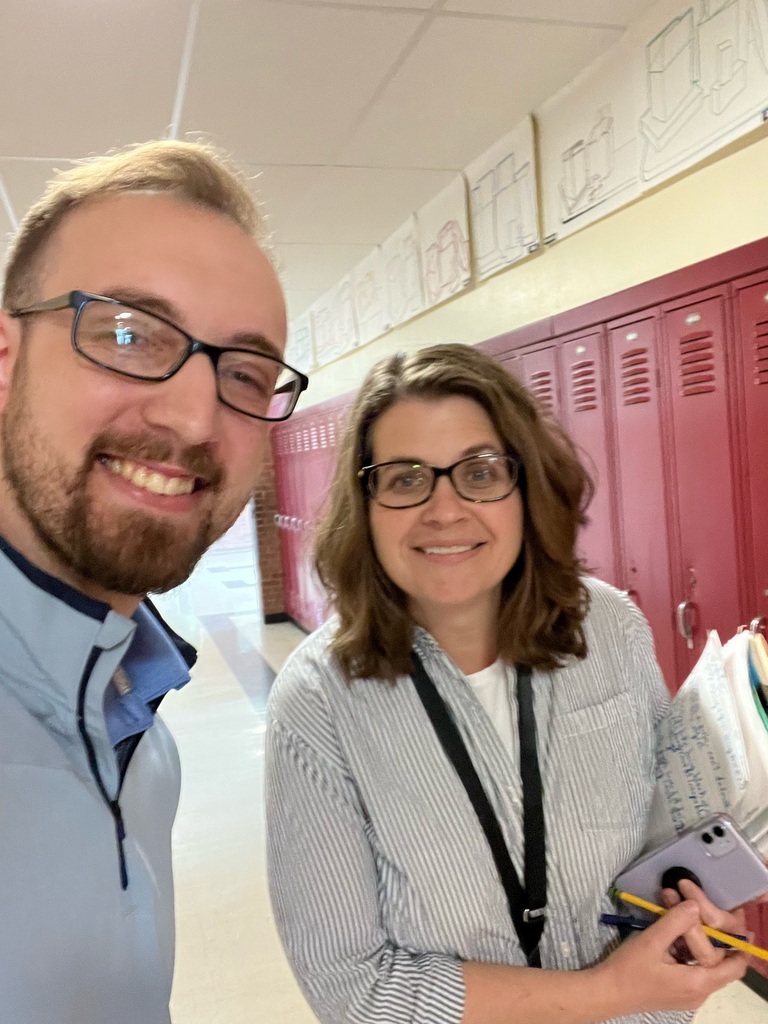 High five: it's Friday! Last week Mr. McLaughlin and the FFA students traveled to Ray Geisinger Farm for a Rural Road Safety Seminar hosted by Juniata County Farm Bureau. Safe driving and equipment handling were presented by the Pennsylvania State Police, Nationwide Insurance and local farmers. This past Tuesday Emily K. Kerstetter and Haley Hoffman competed at Regionals for Public Speaking. Great job, ladies! Thursday: all students participated in a Xello/ Virtual Career Fair Day. Also this week, Todd Tabb, owner of Hometown Potter's Studio, was able to complete his artist residency. The senior high art students enjoyed the Outdoor Raku Firing.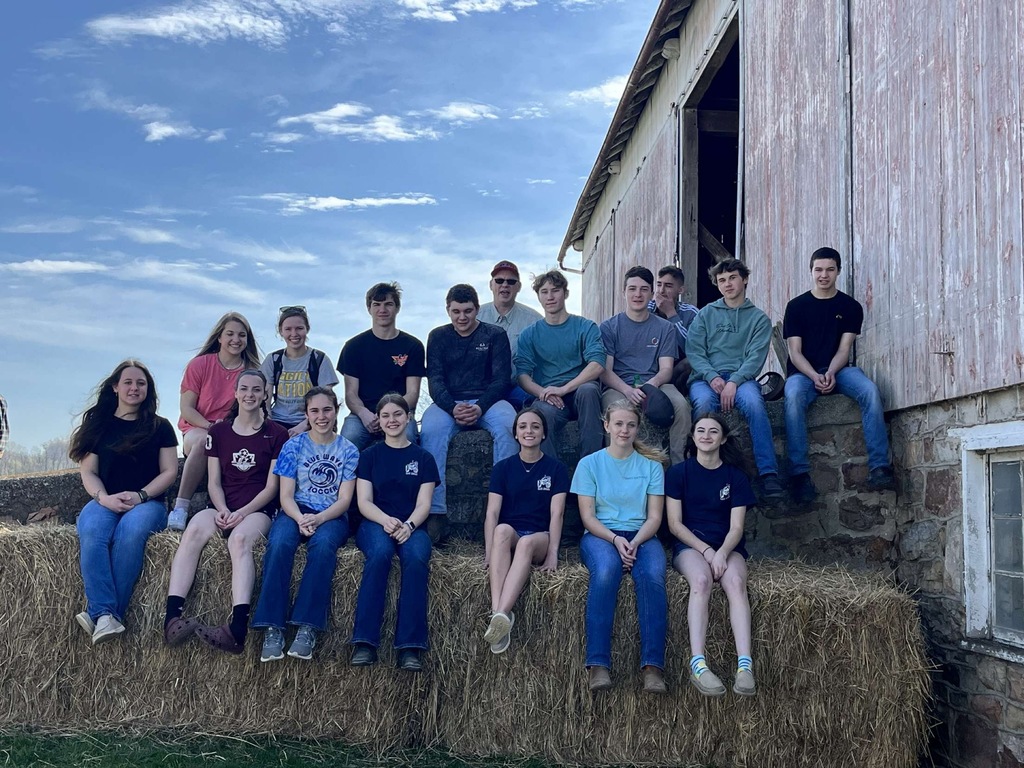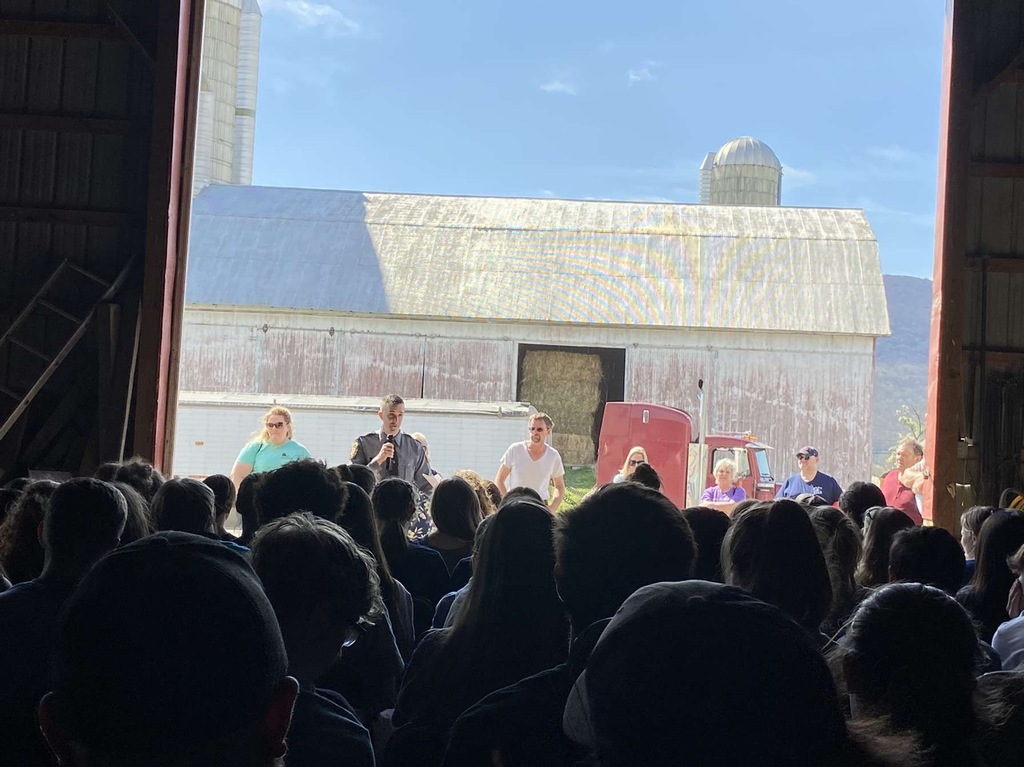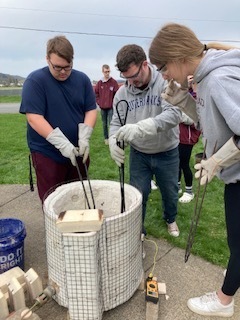 The fourth marking period has begun and it will soon be time to start thinking about summer school. We will be offering summer school again this year. It will be held Tuesdays, Wednesdays and Thursdays through July, starting July 5th and ending July 28th. Parents will be contacted via letter if their student will benefit from summer school. Letters will be sent home sometime in the first two weeks of May.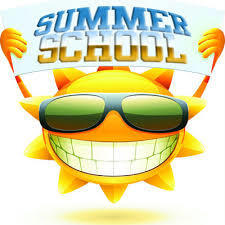 High five: it's Friday! And just like that we have our first full week of April in the books…… - This past Friday, Saturday and Sunday our students put on a wonderful musical performance, The Addams Family. Thank you to everyone who participated and helped to make this so successful. - Although we have had so much rain these past few days, it seems like weeks, our spring sports teams are off to a great start. The varsity baseball team is 2- 1, the softball team is 2-1, and the track team record is: boys 1-0 and girls are 0-1. Keep up the good work! -Report cards were sent home on Wednesday. We are now in the 4th marking period, summer is right around the corner. - This week was Assistant Principal Week. We showered Mr. Sliski with cake, candy and kind words. Mr. S., thank you for doing all you do and for being you!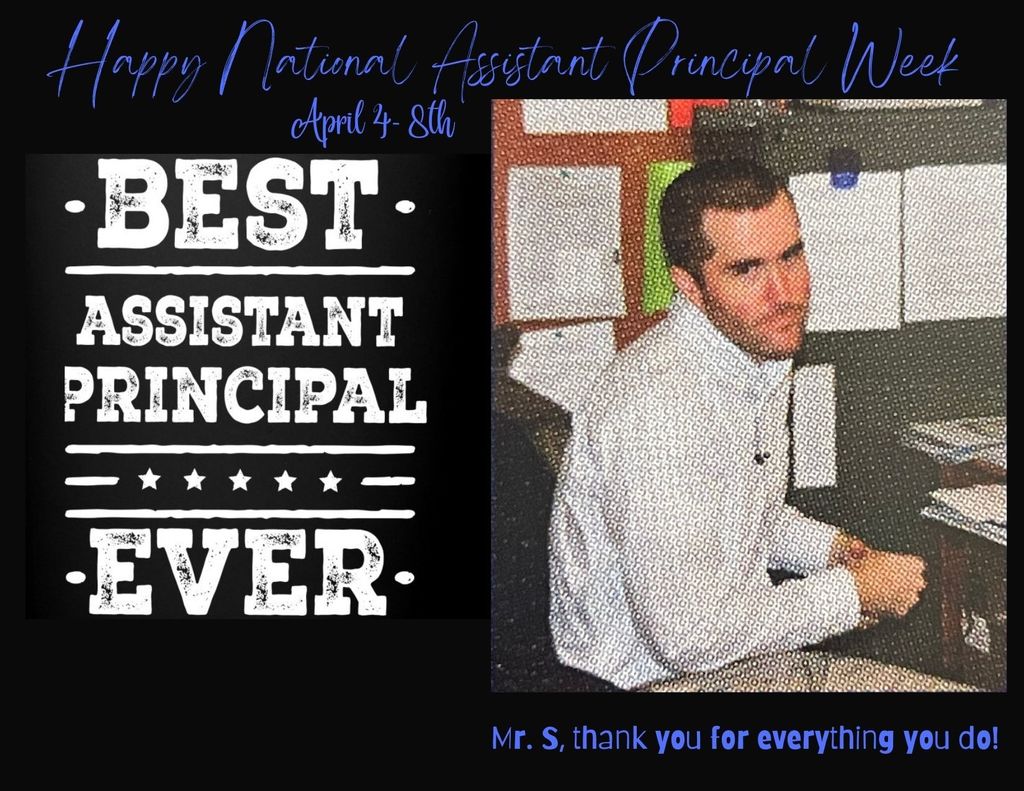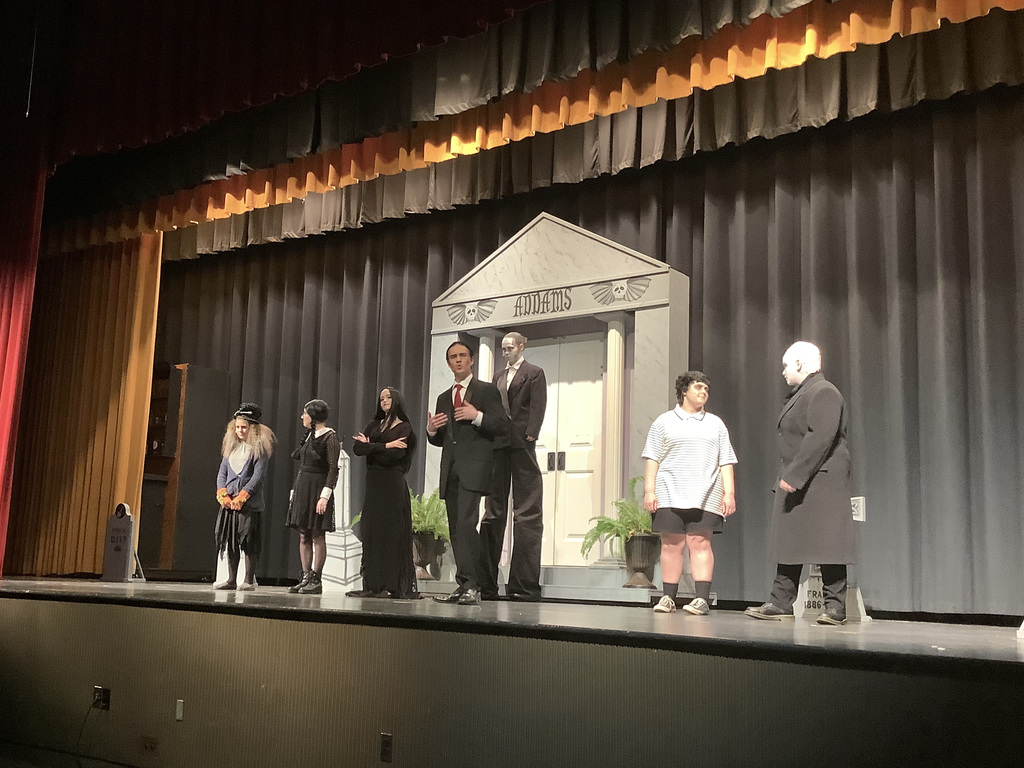 High five: it's Friday! - Miss Straub and Mrs. Sperlich are wrapping up Life Skills Training with 7th, 8th, and 9th grade students. Students learned about resisting peer pressure, making decisions, recognizing media influences, coping with anxiety, and communicating clearly, as well as how and why to say no to using substances such as alcohol, vaping, and other drugs. - On Thursday, we welcomed the students from EJES as they got to preview The Addams Family musical. On Friday, the EJHS students were also able to preview it. If you haven't done so already, tickets are still available at the door. Performances will be Saturday at 7pm and Sunday at 2:30pm. You won't want to miss it.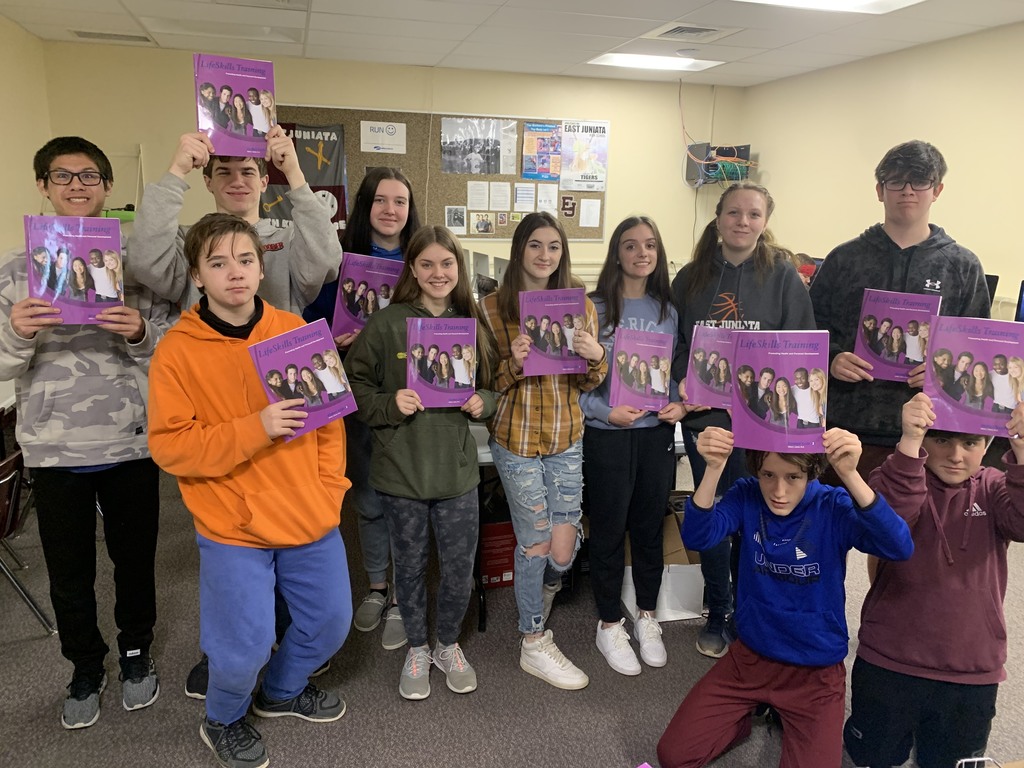 You're running out of time. Call or email to get your tickets. Shows will be held Friday, Saturday and Sunday.
High five: it's Friday! It has been a relatively quiet week….. - Tuesday Mr. McLaughlin and his FFA officers welcomed the Secretary of Agriculture, Mr. Redding, for the Area Leadership Development Event. Emily K. Kerstetetter and Haley Hoffman both placed in Conservation. They will both advance to Regionals in Cumberland County sometime in April and will compete against roughly one third of the state. - Thursday Miss Straub traveled with a few students to SUNTech. The students were able to visit the different specialized areas in which they would see themselves studying while attending SUNTech next school year.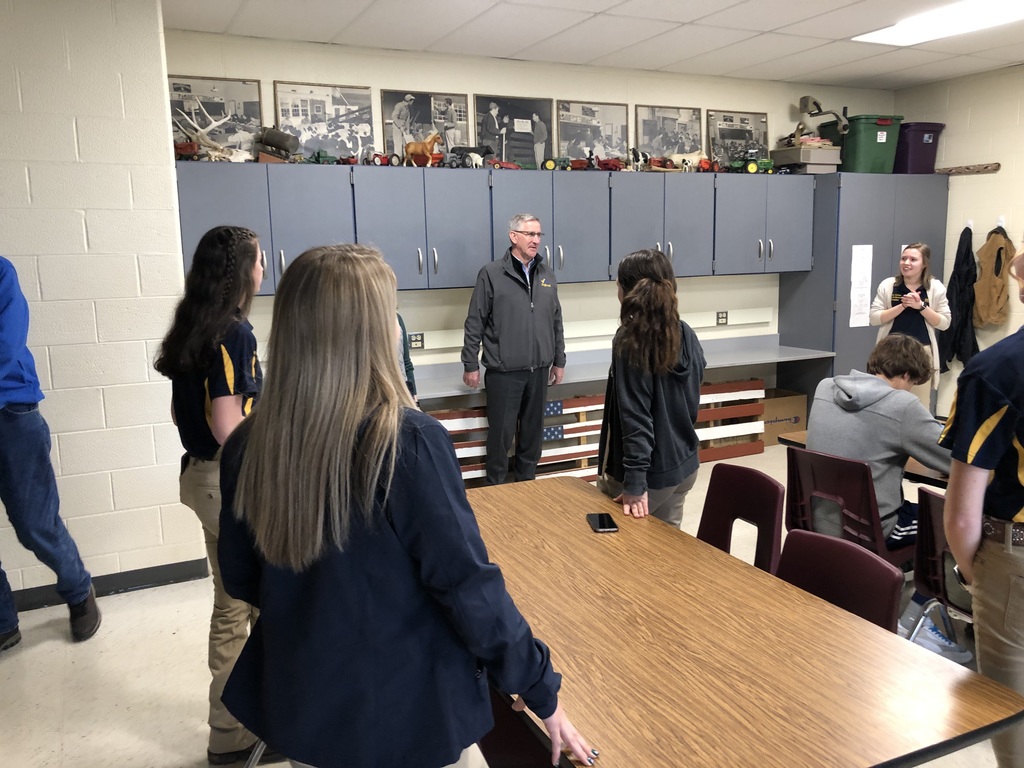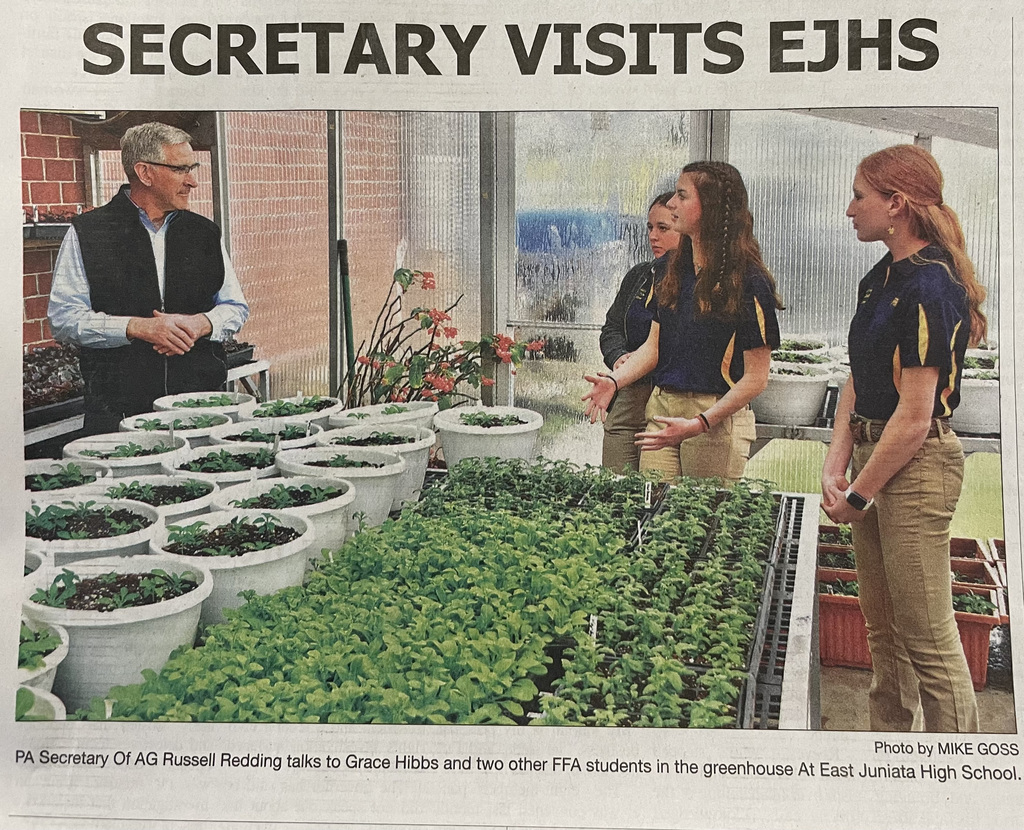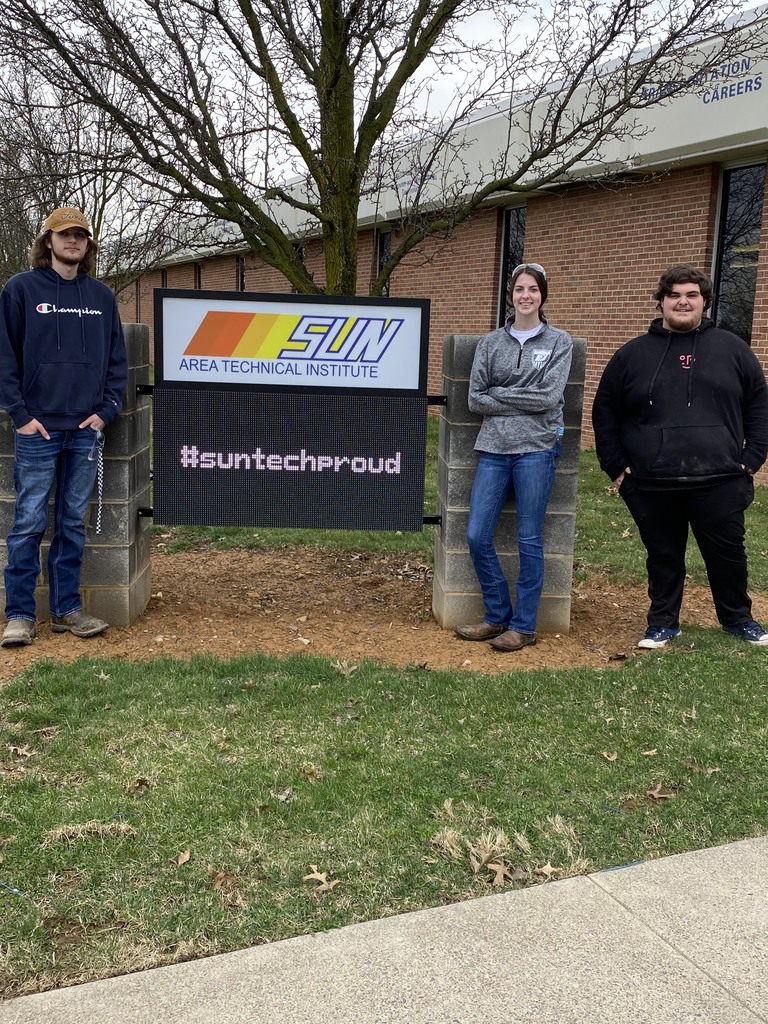 Summertime is right around the corner! Now is the time to start thinking about summer jobs. Anyone aged 14 or older is eligible, by law, to work. Remember: anyone under the age of 18 will need a workers' permit. You can get this through the main office at your high school. A parent will need to accompany their student to the office to fill out an application. Parents will need to bring two forms of identification for their student.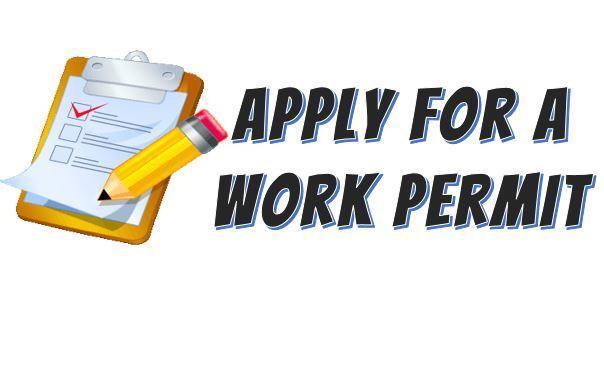 High five: it's Friday! What a beautiful day it is! Monday started with the ASVAB testing. All 10th grade students participated. Monday and Tuesday, Mr. McLauglin took a group of FFA students (Aleigh Bohn, Grace Hibbs, Haley Hoffman, Jack Hoffman, Emily K. Kerstetter) to the State Legislative Leadership Conference in Harrisburg. Today teachers and staff enjoyed a wonderful Wellness Day. It included things like mini manicures, hand dips, painting classes, Yoga and so much more. Macy Buskey, Grace Hibbs, Briar Jamison, Tate Jamison, Emily K. Kerstetter, Shyanne Pyle, Anna Shaffer and Kendahl Stroup enjoyed this beautiful Friday weather by traveling with Mr. McLaughlin to John Hershey's farmers breakfast.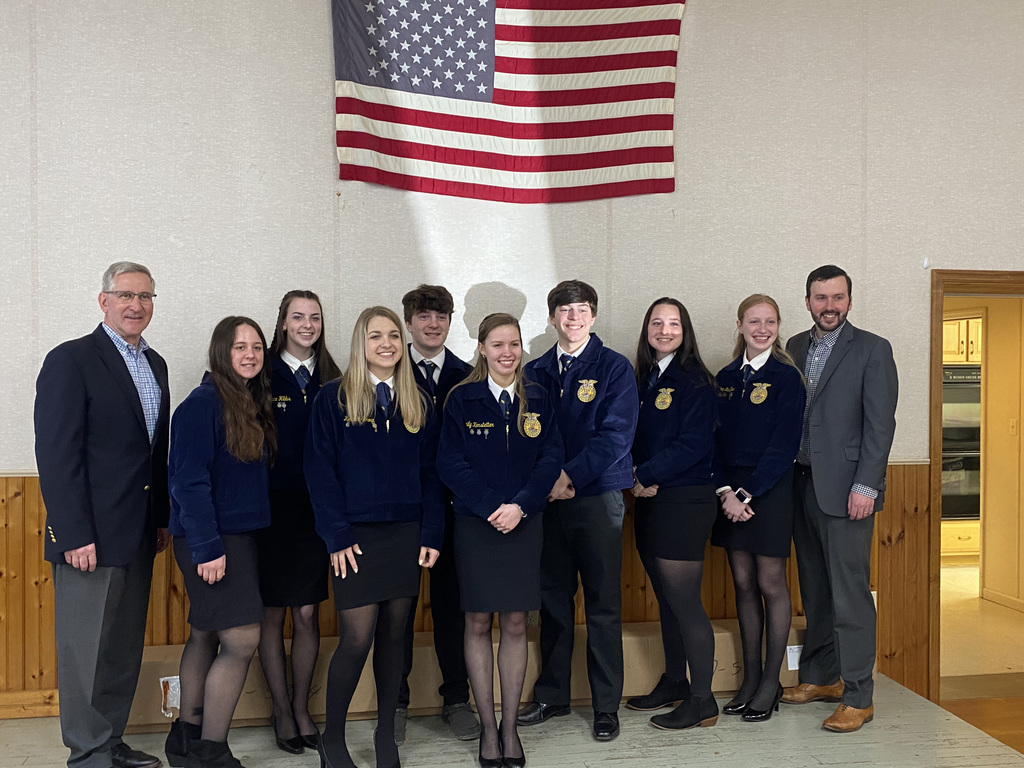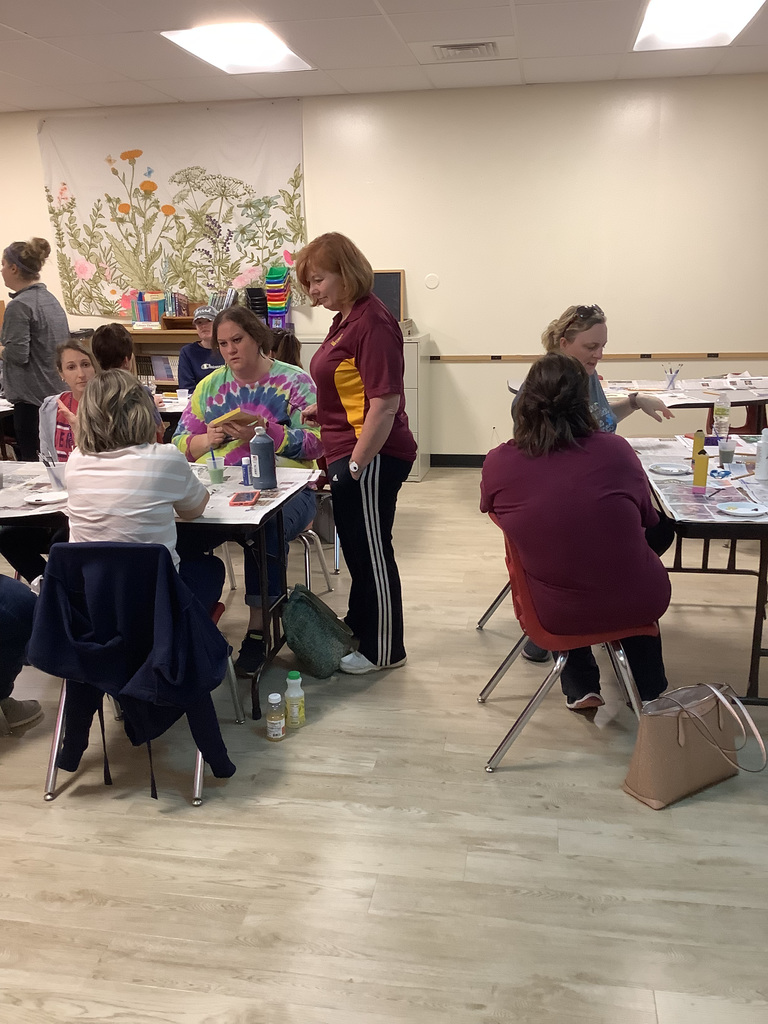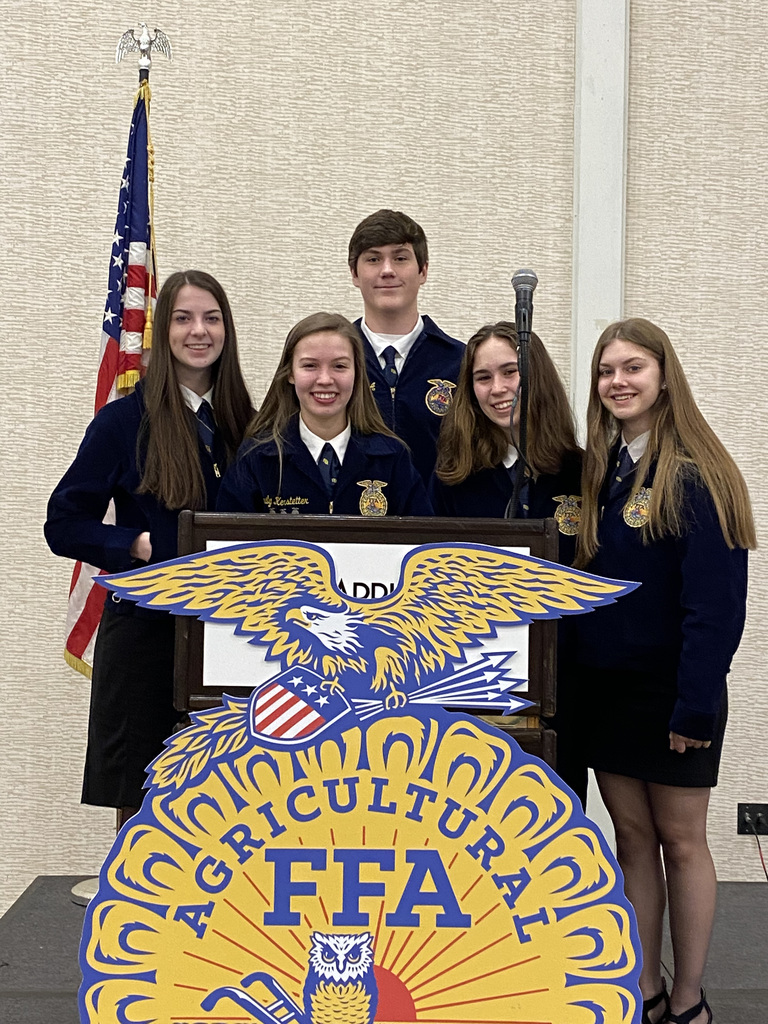 Get your tickets while they last!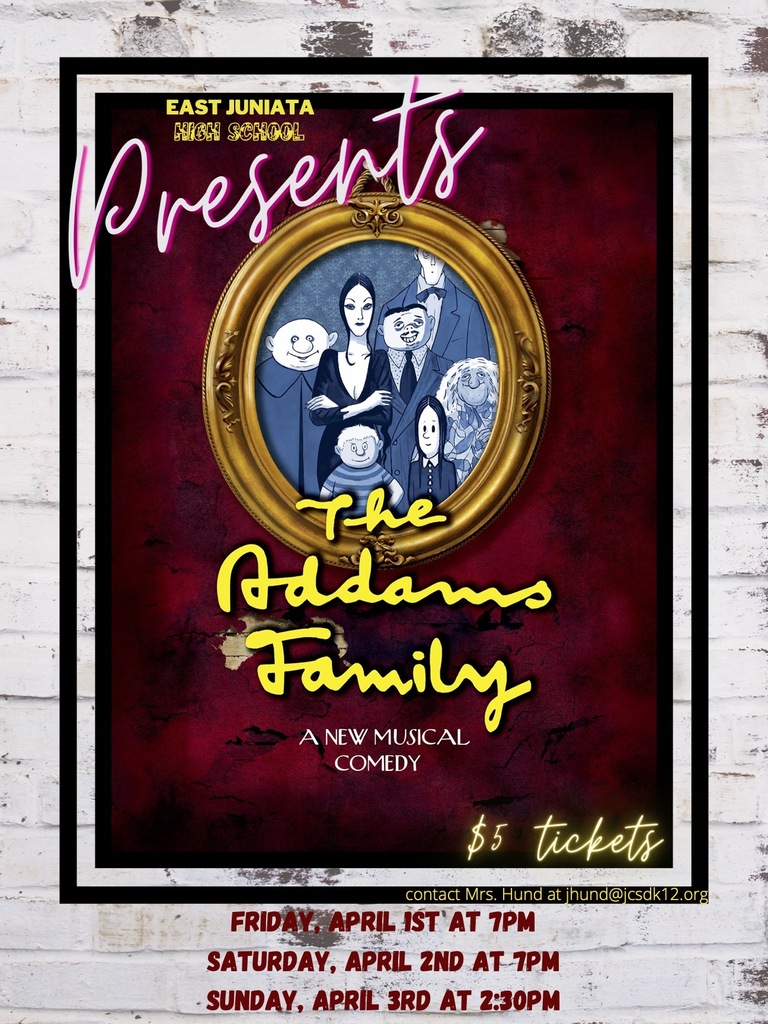 High five: it's Friday! Such an eventful week! - Spring sports are in full swing despite the winter weather we experienced mid week. - Mrs. Toth's AP Bio class kicked off the week with another dissection, earthworms this time. - SUNTech student, Jacob Reichenbach, made this wonderful sign using the CNC machine for BigFoot Country. Jacob said "without Mrs. Fryer and Mr. Sliski, he wouldn't have had the opportunity (to attend SUNTech)" - The NJHS students collected donations for the Ronald McDonald house in Danville. Thank you to everyone who donated. - Today Ben Losch traveled to West Branch high school to compete at Regional Band. Congrats Ben! - Tomorrow's SAT at Juniata High School and Mifflin County High School will be postponed until Saturday, March 26th. Students who were scheduled to take the SAT tomorrow at either location need to confirm they can attend March 26th makeup ASAP, no later than Monday.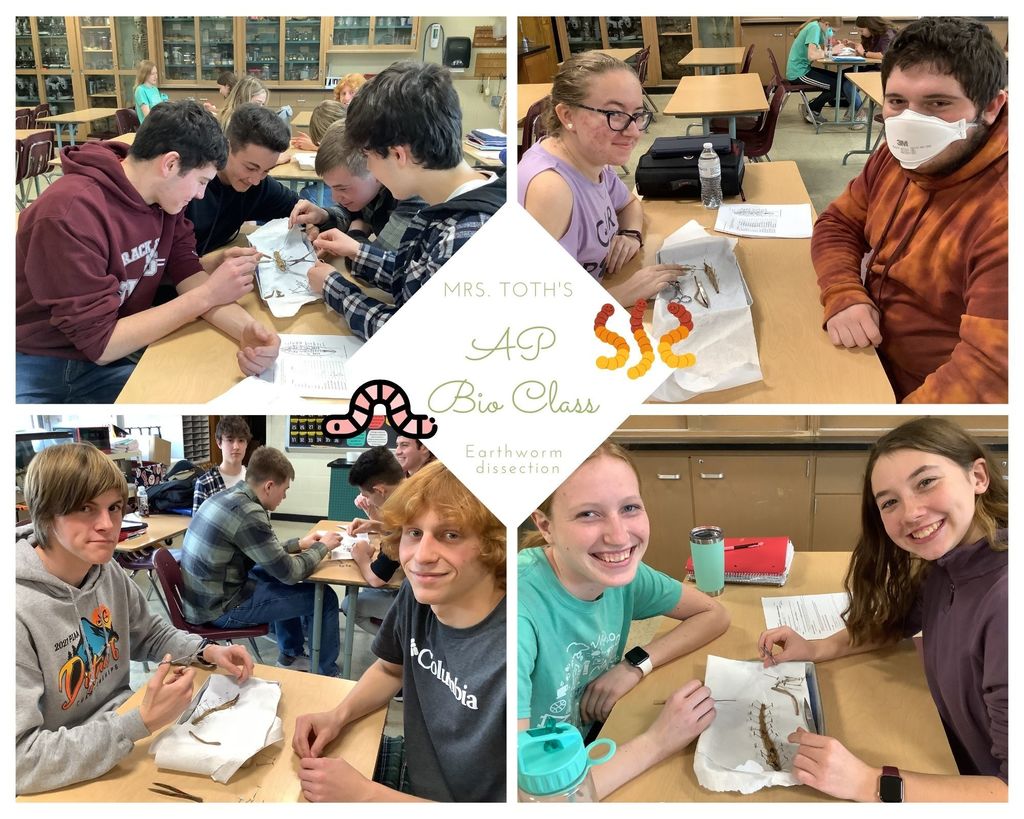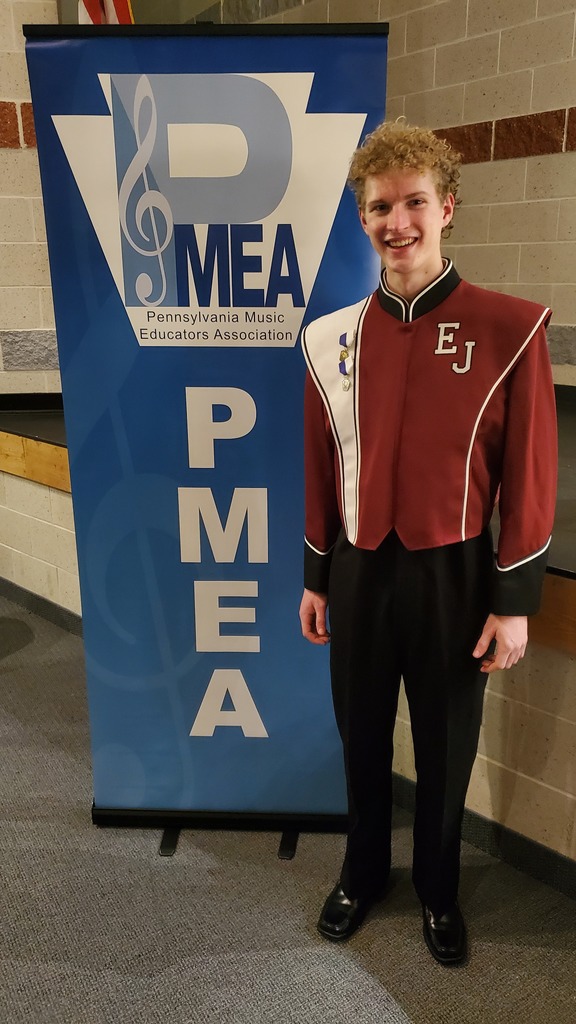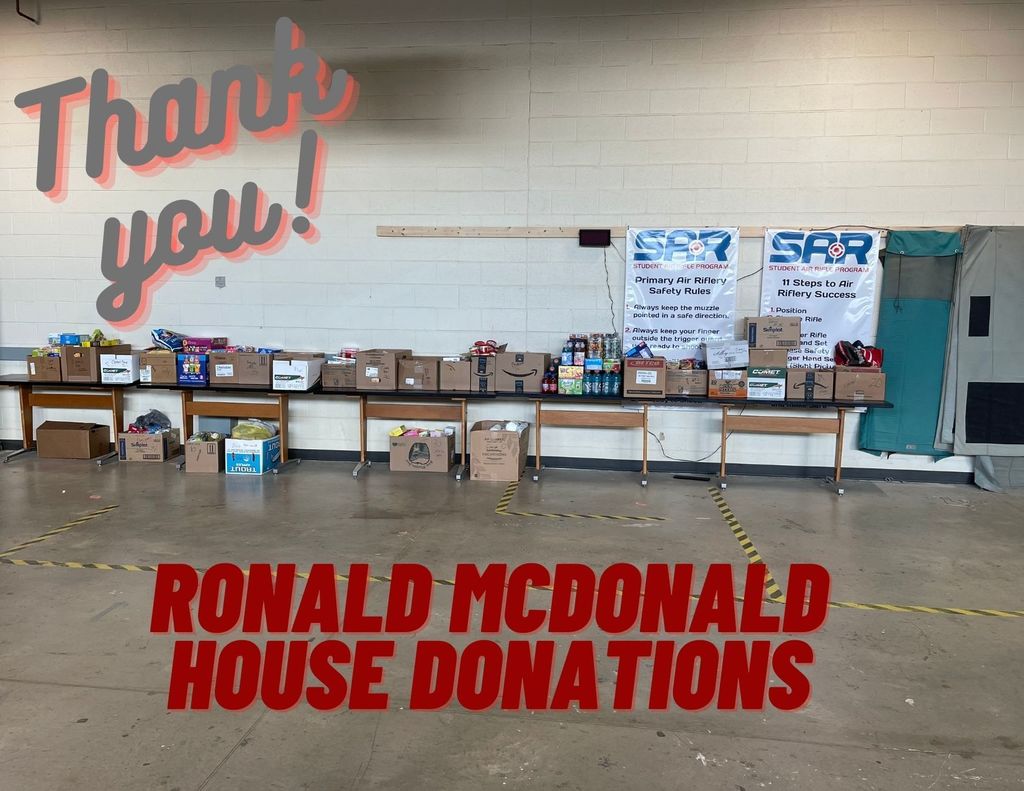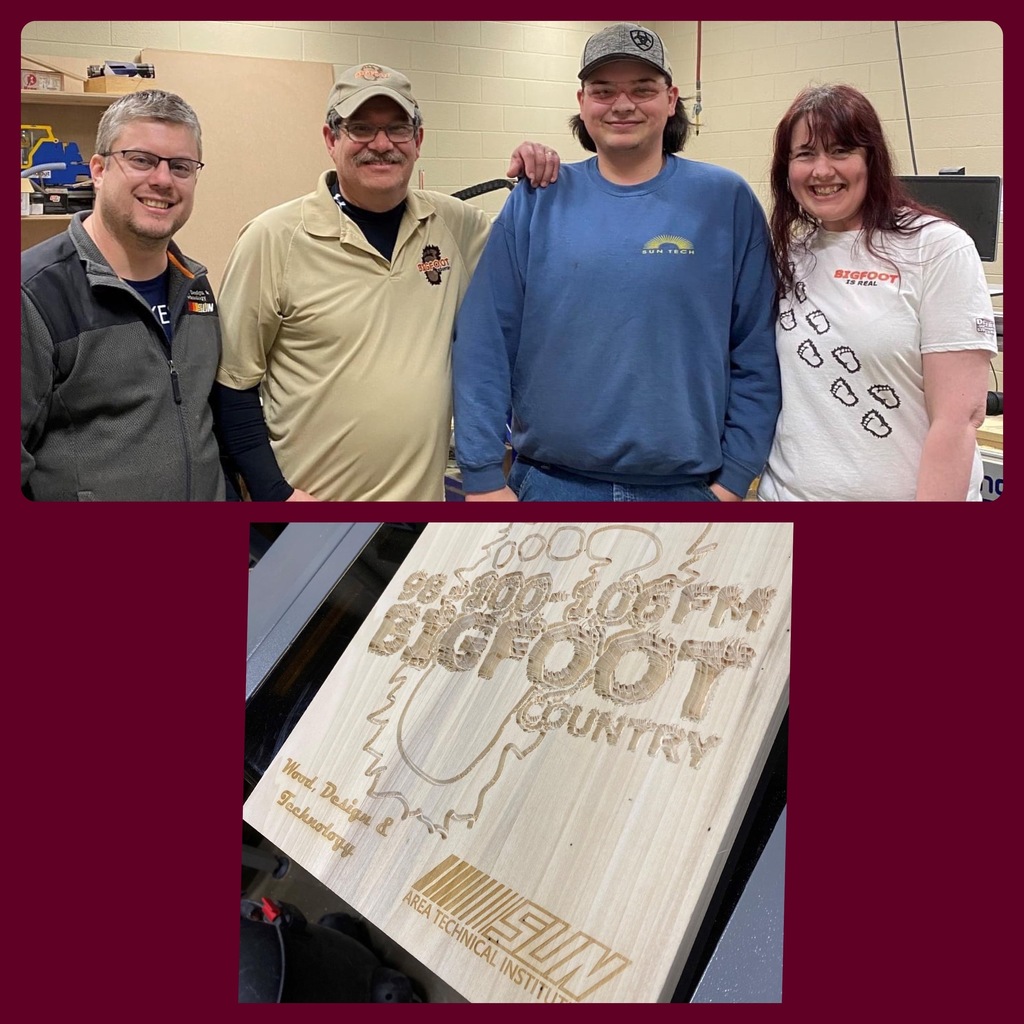 High five: it's Friday! We kicked off a new month with lots of exciting things happening…. - On Monday, we held a seniors vs. staff volleyball match. It was a great game, but, needless to say, the seniors won ;) All money donated was in support of Mrs. Fryer. - Thursday was bus evacuation day. Students practiced exiting the bus in case of emergencies. - We ended our week with Mr. McLaughlin and the FFA students making homemade ice cream. Delicious!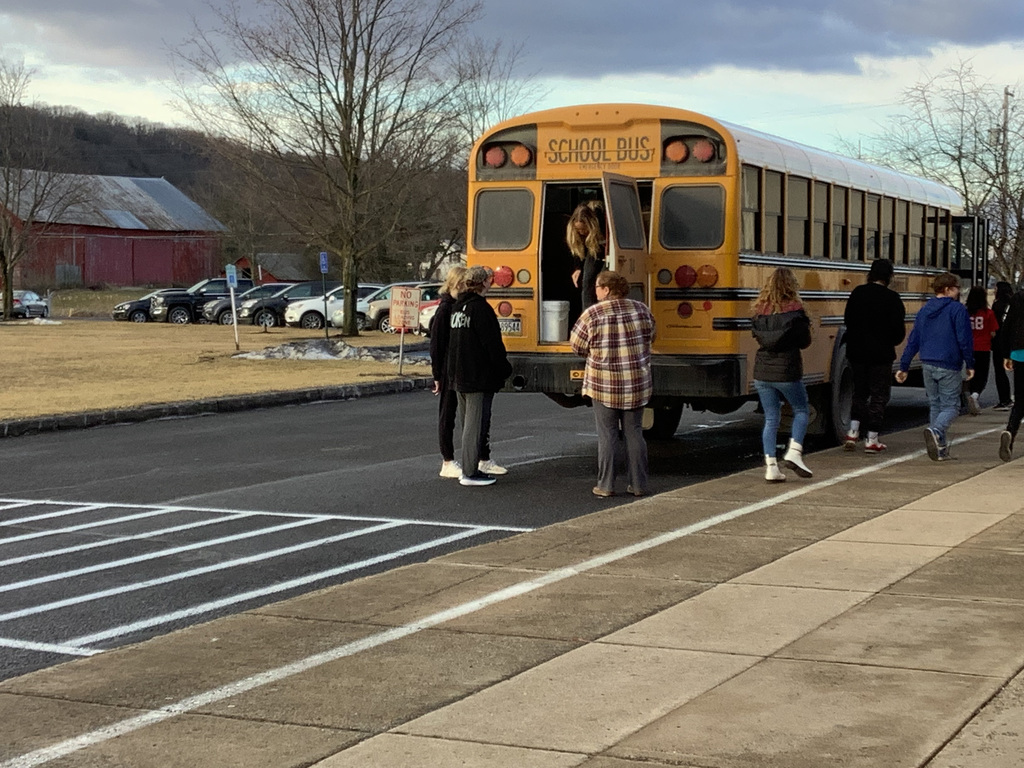 High five: it's Friday! It was a short week here at EJHS but let's recap…… - Mrs. Toth's class enjoyed yet another dissection this week: sheep eyes. - It was FFA week and the FFA students treated themselves and the staff with a delicious breakfast. Thank you to Mr. McLauglin and his FFA students for hosting such a wonderful meal. - Don't forget: spring sports start March 7th! Please get all forms and fees turned in to the office or Mr. Quici.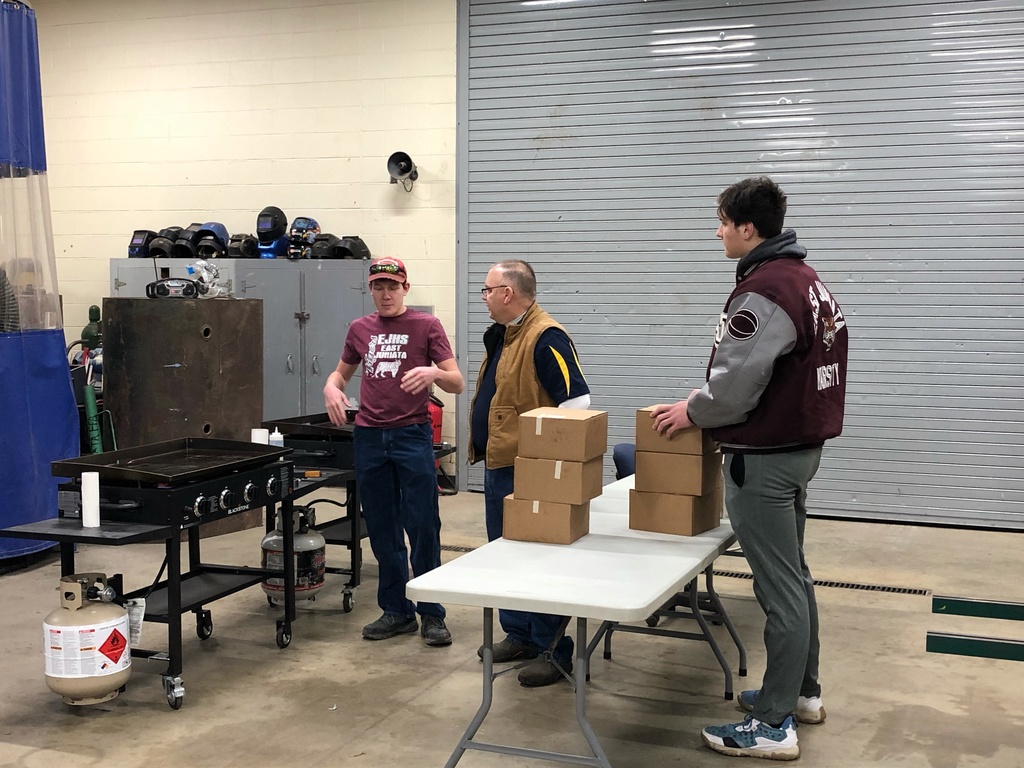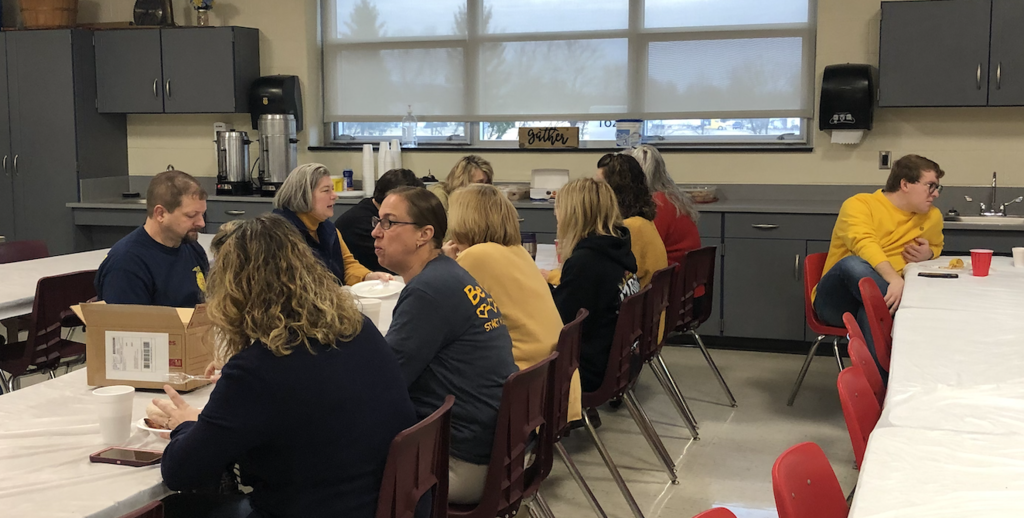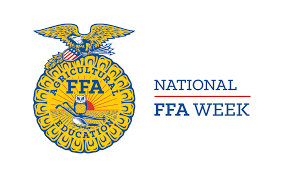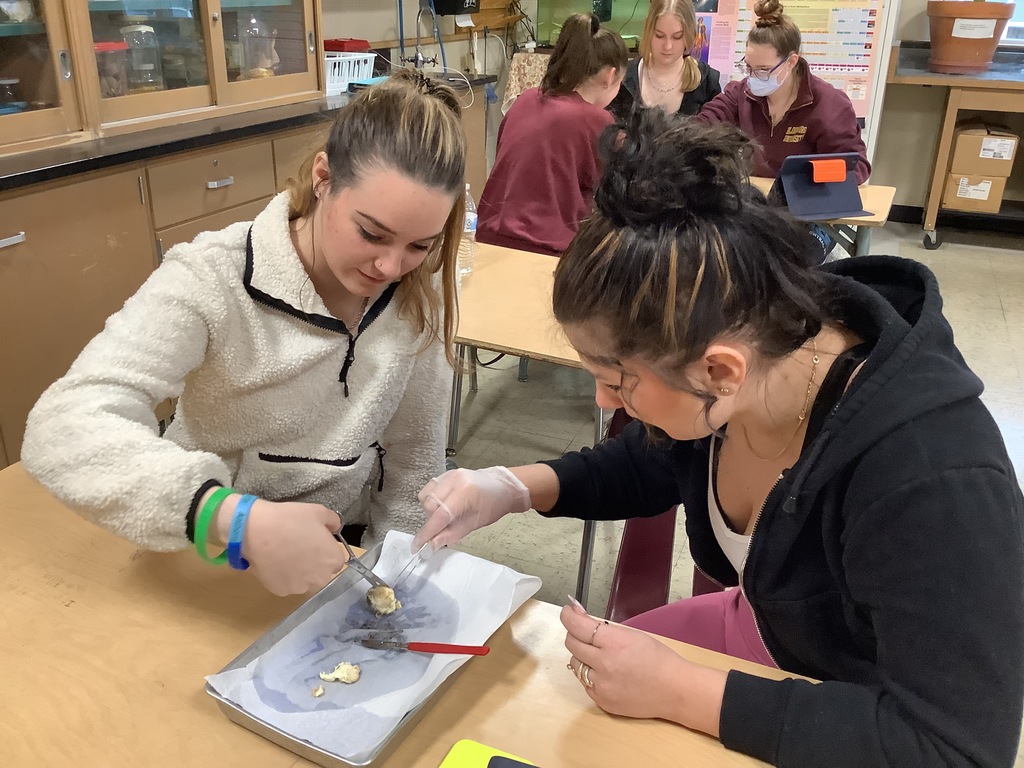 We will now be operating on a 3 hour delay/ flexible instruction day. Please see below for todays schedule. East Juniata High School 3 Hour Delay/Virtual SCHEDULE 11:00 - 11:30 Lunch Period 11:30 - 11:56 Period 1 11:58 - 12:24 Period 2 12:26 - 12:52 Period 3 12:54 - 1:20 Period 4 1:22 - 1:48 Period 5 1:50 - 2:16 Period 6 2:18 - 2:44 Period 7 2:46 - 3:15 Period 8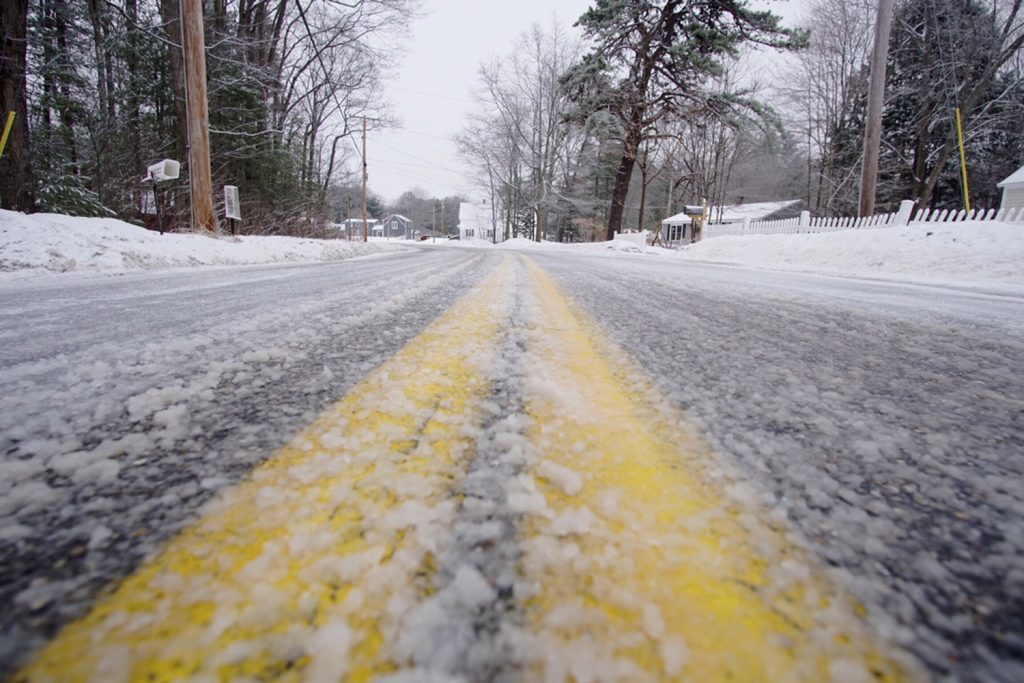 Friday, February 25th we will be operating on a 3 hour delay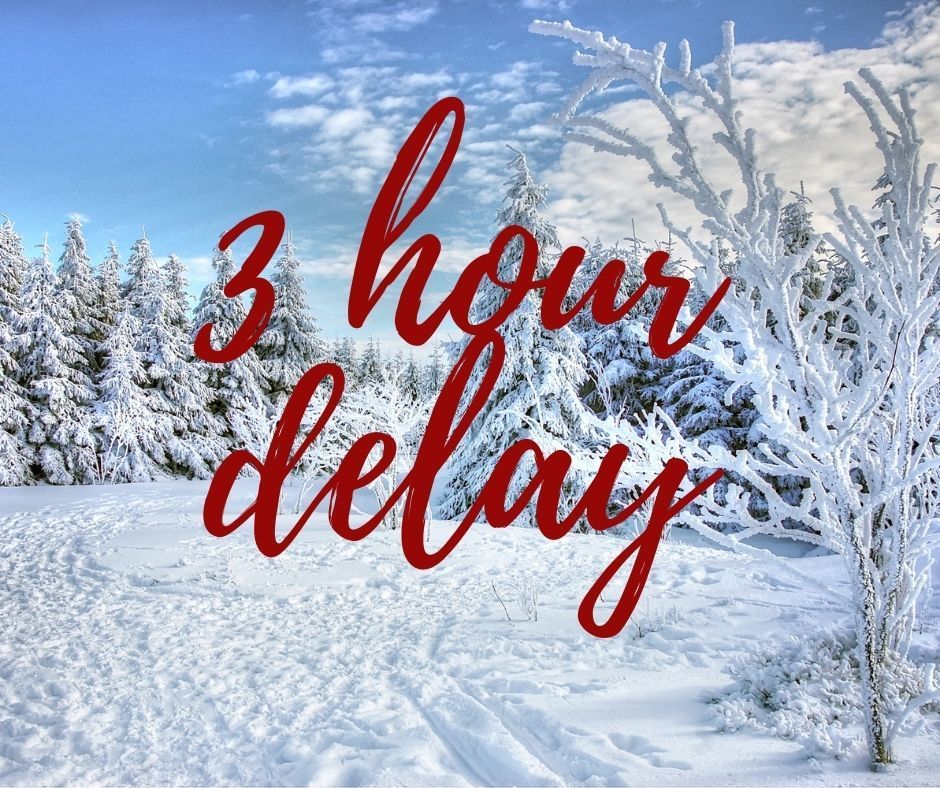 Next week is National FFA Week. What better way to show your support for FFA than to get involved in FFA Week? Please see the list of FFA spirit week days and dress to impress.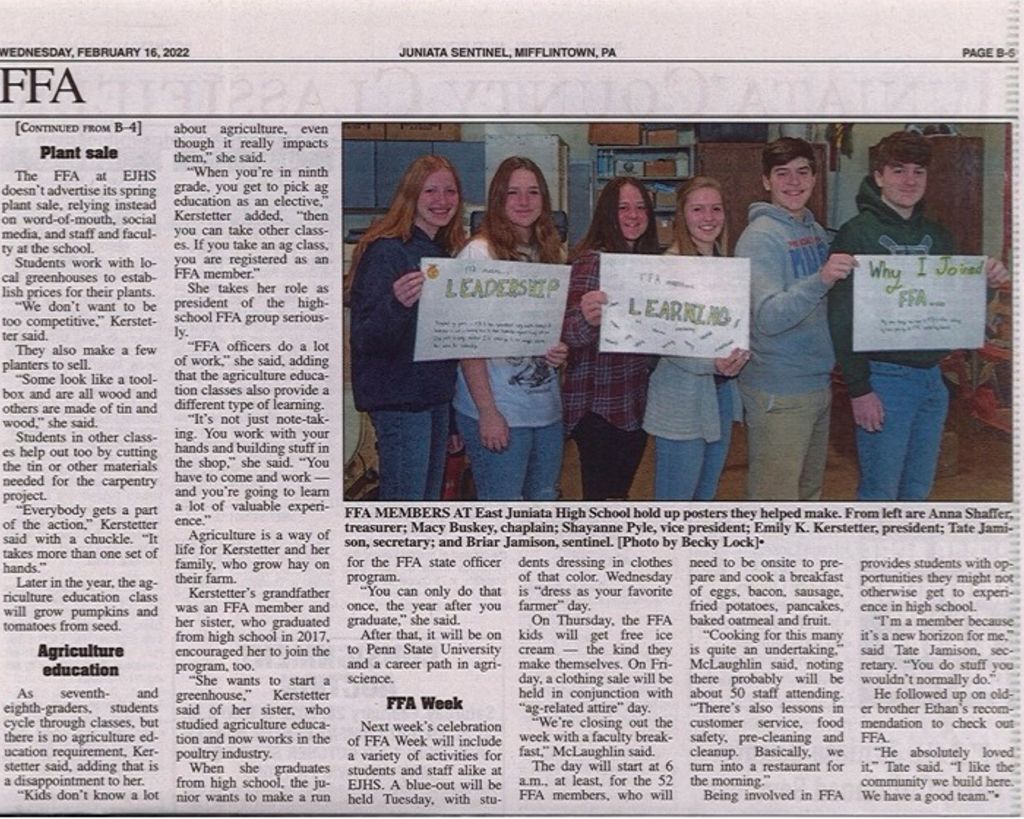 High five: it's Friday! It was another busy week. Let's recap…… This morning we started our day with a friendly basketball shooting competition in the gym. Students and faculty paid $1 to take 3 shots. If they made their shots, their name was entered into a drawing! The student winners were Briar Jamison, Jake Brackbill and Josh Dubeil. The faculty winner was Mrs. Steph Hackeberg. Last night, the boys basketball team competed in a great game against rival Juniata. EJ boys were successful and pulled out the win, which clinched the league title. It was so great to see our school come together with the singing of the National Anthem by the EJ chorus and all the school spirit throughout the gym. Let's pack the house again tonight for the girls basketball team as they host rival Juniata! Please wear white to show your support. All proceeds from the last two days will be donated to teacher Mrs. Fryer. Mr. Todd Tabb finished up his first rotation for the Artist Residency Program this past Wednesday, and our students are looking forward to his return in March. Congratulations to our students who competed at district band and chorus the past two Fridays. We are very proud of their hard work!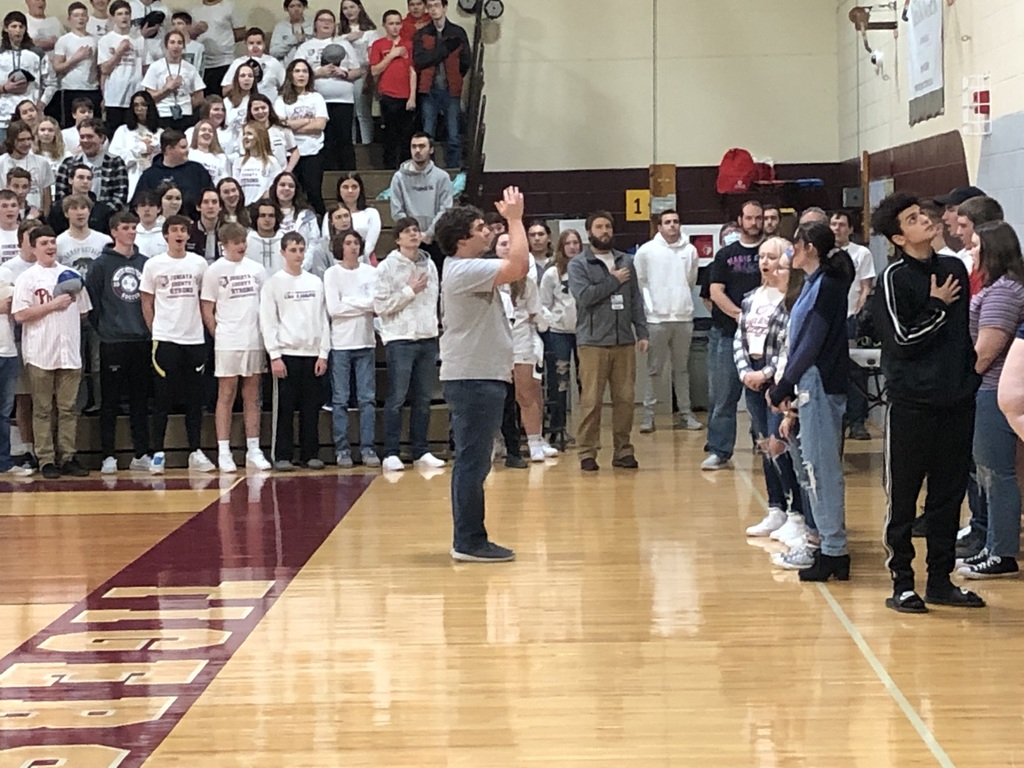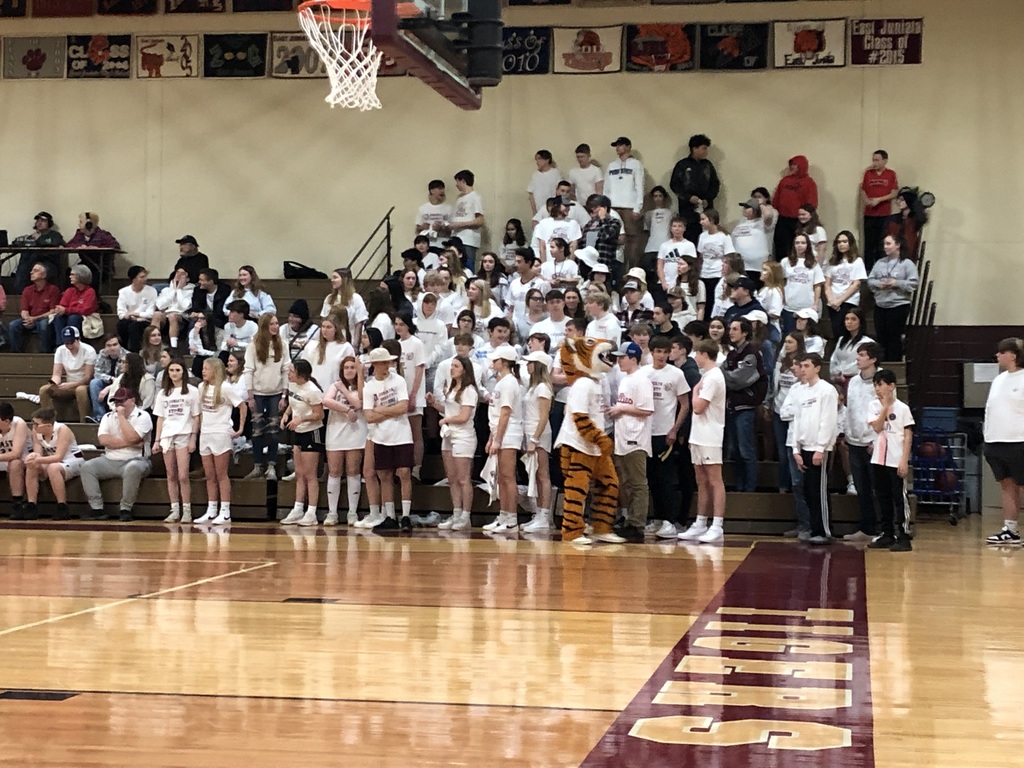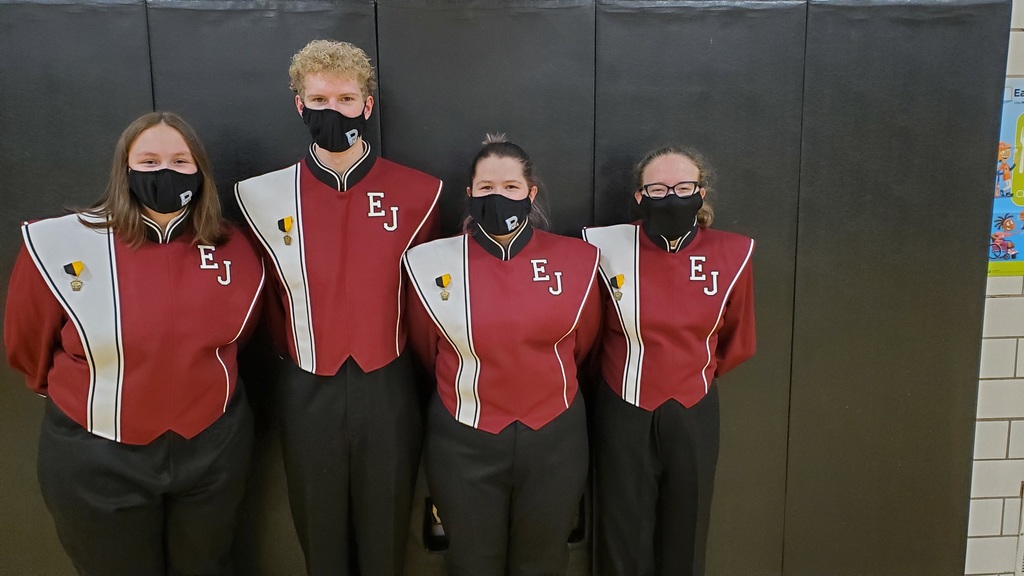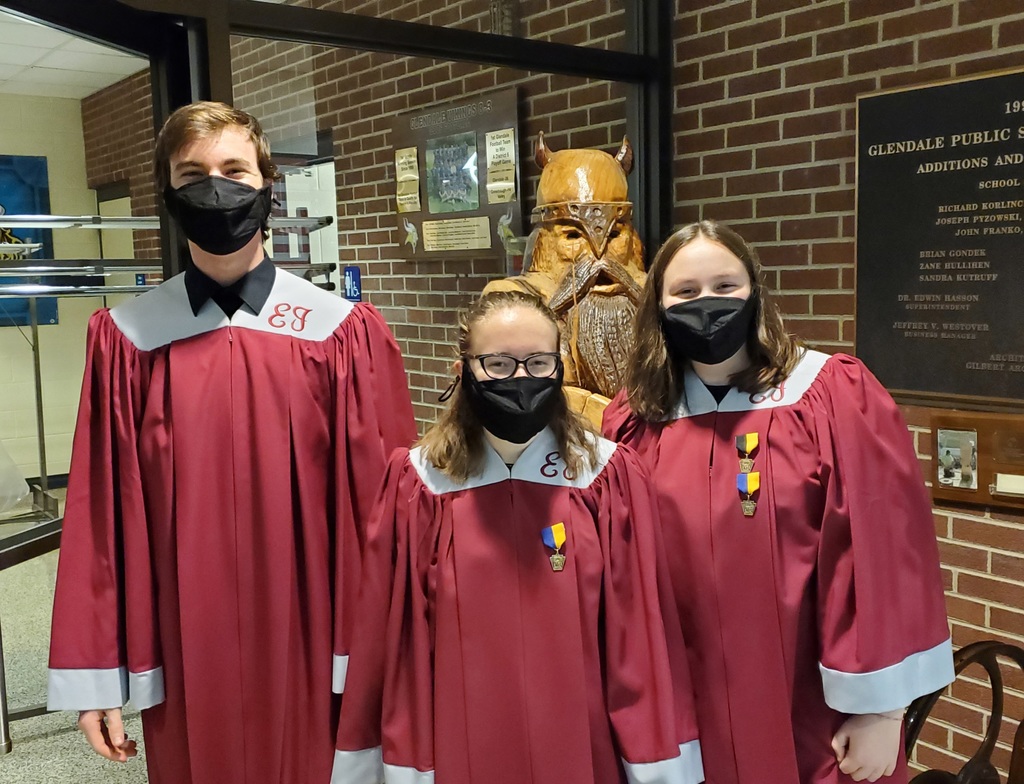 High five: it's Friday! It was another busy week. Let's recap…… * Last Friday a group of students competed at district band. Congratulations to Ben Losch and Emma Brophy for being selected to compete at the regional competition. Tomorrow we are sending another group: Addison Benner, Emma Brophy and Emmett Hibbs to compete at district chorus. Good luck to all! * The week kicked off with CDT testing. Thank you to our students and teachers for doing their absolute best. * Also, this week we welcomed Mr. Todd Tabb to Mrs. Kerstetter's art room for an Artist Residency program sponsored by Perry County Council of the Arts and the Juniata County School District. The students learned about the history and process of Raku firing, throwing on the potter's wheel, as well as Coil and Kurinuki Hand-building techniques.