The Juniata County School district is pleased to announce the commencement date of June 2 for the Class of 2021 (rain date June 3). Each school will have a separate ceremony with start times that allow for folks to attend both events. The exact location/time is yet to be determined due to the uncertainty of the COVID situation of our county/state.
East Juniata Elementary AND East Juniata High School Families ONLY: It is with great disappointment that due to the count of 4 COVID positive staff and student cases at both East Juniata Elementary and East Juniata High School, we must close the buildings beginning Monday, February 1 through Wednesday, February 3, 2021. All students at EJES and EJHS will be remote. The buildings will be closed until February 4, 2021. There will be no extracurricular activities. During this closure the building will be cleaned according to CDC and DOH guidelines.
Picture retakes will be held on Thursday, January 21, 2021. Any hybrid and JCVA students that did not have their picture taken yet, or would like retakes, should report to the school (auditorium) from 9:00-12:00 that day.
We are aware of issues affecting Google access. We are doing everything we can to alleviate these problems.
We are looking for feedback on your student's online learning. Please use the following link to provide feedback. If you have multiple students you will have to fill the form out once for each student.
https://forms.gle/PBzsdz91oNH6yiDQ8
Picture retakes are now scheduled for January 21. More details will follow as they become available.
National honor Society is holding a food drive from 11/2-11/6 and are looking for the following items from grade-level homerooms 7th: Canned fruit 8th: Canned vegetables (sweet potatoes, corn) 9th: Cake mix, Brownie mix, Muffin/Quick bread mix 10th: Boxed stuffing; gravy 11th: Instant mashed potatoes/Scalloped potatoes 12th: Canned green beans, cream of mushroom soup, french fried onions
If you are picking up your student at the end of the day, please follow the attached map in order to decrease parking lot congestion.
Picture retakes will be on Wednesday, November 18th. Picture forms are available in the office. Seniors, if you missed picture day and want a School photo ID card, please report to the stage on November 18th. You do not have to order pictures in order to get an ID.
There will be a senior class meeting in the auditorium on Thursday morning, 9/24 (this Thursday). Please sit in the middle section of the auditorium in every other seat to keep socially distanced. Please make sure you have your mask on. There will be a Zoom link available for the meeting on Thursday starting at 8:20. You'll be able to at least listen to what's going on. The forms that we hand out during the meeting will be emailed, and the cap and gown information can be emailed as well. The meeting should last about 20 minutes or so.
We'd like to express our gratitude to Empire Kosher for their generous donation of pencils, notebooks, and folders for all of our students!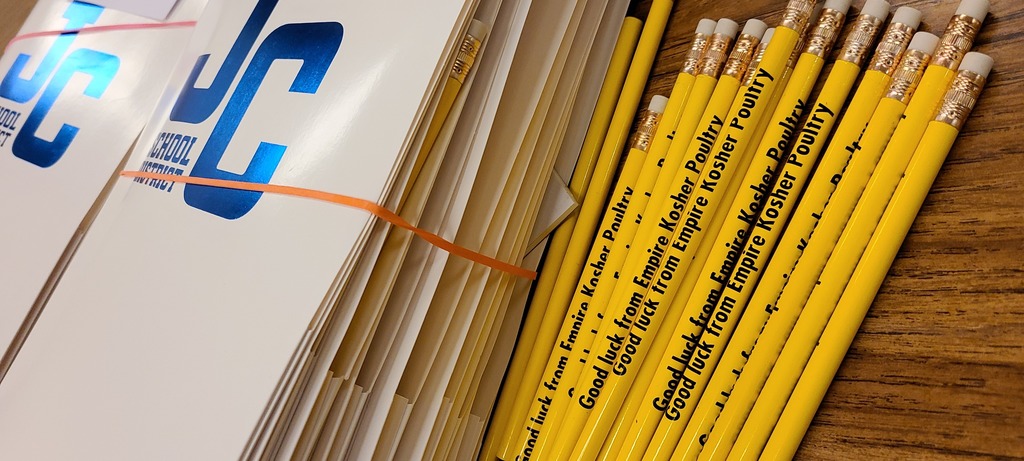 Odysseyware is fully functional at this time. Thank you to all affected parties for your patience.
We are aware of issues affecting students' attempts to login to the Juniata County Virtual Academy (i.e. Odysseyware). We are actively working to remedy the situation. We will provide an update as soon as possible.